Well, I hope you are all ready to enjoy your long weekend! It is much deserved and I think the kids are all ready for a bit of a break 🙂
Dates to Remember:
Monday, October 10th – Thanksgiving, No School
Tuesday, October 11th – Pro D Day – No School
Spelling:
No Spelling this week due to the short week.
Bible Memory:
I am not adding another verse this week due to the short week.
"I will give You thanks with all my heart; I will sing praises to You before the gods. I will bow down toward Your holy temple and give thanks to Your name for Your lovingkindness and Your truth; For You have magnified Your word according to all Your name. When I call, you answer me; you encourage me by giving me strength. All the kings of the earth shall give you thanks, O Lord, for they have heard the words of your mouth"
Reminders and Other Information:
Reminder to bring your 'Comfort Kits' in if you have not already done so
Thank you for getting your permission slips for the Pumpkin Patch in so quickly, I have everyone's already, that is awesome 🙂
Please remember to send your child with a coat, even if it is windy and a little bit chilly the kids will be going outside to play at recess and lunch recess
Phonograms – We practice our phonograms orally every day, and at least once a week written. In order for your child to have mastery, they must be able to write the phonograms. Practice at home with this would be very beneficial for your children, especially as we are just beginning
Home Reading:
Today your child came home with their Home Reading. (If your child goes to Ms. Couse then they did not receive a second Home Reading book.) Students succeed when they read. Reading occurs at school, but practice at home is also an essential part of your child's education. Students are expected to read for a minimum of 20 minutes a day, 5 days a week. They may read on their own, with a parent, or with a sibling or friend.
Home reading books will be sent home on Fridays. Please ensure that your child reads each night, and then returns the book each Friday when they will receive a new book. When they have completed their home reading for the day, they can fill out the form and get it signed by a parent (only sign it one time per day). Please return the form when it is complete for a reading prize. Students are not limited to reading just the book they are sent home with, however, it is a book that is at their own reading level and is good to help them practice and gain skills. I would love to see every student reading at home and participating in our Home Reading program. It will go a long way in helping your child become a better reader.
If you have any questions, please feel free to send me an email or come see me.
A Few Pictures from Our Week:
Making Ice Cream:
Skipping in PE:
Turkeys!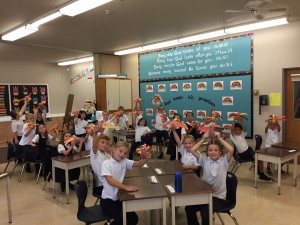 Happy Thanksgiving! Have a great long weekend 🙂