It is hard to believe that we are in the last week of April already … time is just flying by! We had Service Day this past week and we went on our garbage walk. The rain held off, which we were so thankful for, and we were able to pick up lots of garbage to help keep our streets clean.
Dates to Remember:
Monday, April 24th – Pro D Day – No School
Wednesday, April 26th – Knight Day
Thursday, April 27th – Grandparent's Day
Spelling and Phonograms:
No Spelling or Phonogram Tests this week due to the short week.
Bible Memory:
1 John 4:7-16 (NLT)
Dear friends, let us continue to love one another, for love comes from God. Anyone who loves is a child of God and knows God. But anyone who does not love does not know God, for God is love. In this the love of God was made manifest among us, that God sent his only Son into the world, so that we might live through him. In this is love, not that we have loved God but that he loved us and sent his Son to be the propitiation for our sins. Beloved, if God so loved us, we also ought to love one another. No one has ever seen God; if we love one another, God abides in us and his love is perfected in us. And God has given us his Spirit as proof that we live in him and he in us. Furthermore, we have seen with our own eyes and now testify that the Father sent his Son to be the Saviour of the world. All who declare that Jesus is the Son of God have God living in them, and they live in God. We know how much God loves us, and we have put our trust in his love. God is love, and all who live in love live in God, and God in them.
I will be testing the entire passage this week.
Reminders and Other Information:
Home Reading – remember to bring it in … it seems that we are starting to forget our home reading more often, please try and remember to bring it … It is important that we keep practicing our reading
Grandparents Day – reminder that Grandparents Day is on Thursday … I hope  you have all invited your grandparents or someone who can come in lieu of if your grandparents aren't available. It is going to be a great afternoon!
Highroad Academy Garden is hosting a Spring Market on April 21st from 2-4pm in the school foyer. Students will be selling Spring flowers, cupcakes and hand scrubs. Come out and support the Highroad Garden!
Pictures from Our Week:
Service Day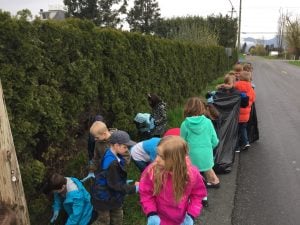 Class Visitor – Mrs. Loeppky's dog Rocco