We have had a great week in Grade 2. From Knight Day on Wednesday, to Toonies for Terry and completing our Terry Fox Run, to all the excitement of watching all the construction going on right outside our window, it has been busy and fun. We tried different types of apples, and completed some writing using our 5 senses about apples, as well as doing some different science experiments. A full and good week.
It is hard to believe that we have finished the first month of school and are moving into October!
October Dates:
Tuesday, October 3rd – Spell to Write and Read Parent Information Session
Wednesday, October 4th – WITS Assembly
Monday, October 9th – School Closed – Thanksgiving
Tuesday, October 10th – Pro-D Day – School Closed
Monday, October 16th – Picture Re-takes
Tuesday, October 17th – Pumpkin Patch Field Trip
Thursday, October 19th – Great Shake Out – Earthquake Drill
Friday, October 20th – Interims go home
Tuesday, October 24th – Thursday, October 26th – Scholastic Book Fair
Friday, October 27th – Scholastic book orders due
Tuesday, October 31st
Fall Dress Up
K-6 Soup Lunch
Spelling and Phonograms:
List will be introduced on Monday, October 2nd and tested on Friday, October 6th.
low
other
men
apple
well
late
that
them
white
paper
cut
sick
oa, oe, tch, ph, ed, ck, ui, ir, ie, igh
Bible Memory:
Please be practicing this with your child at home. I will be testing the students once we have completed the whole passage. Thank you!
Psalm 138:1-4
"I will give You thanks with all my heart; I will sing praises to You before the gods. I will bow down toward Your holy temple and give thanks to Your name for Your lovingkindness and Your truth; For You have magnified Your word according to all Your name. When I call, you answer me; you encourage me by giving me strength. All the kings of the earth shall give you thanks, O Lord, for they have heard the words of your mouth."
Reminders and Other Information:
Thank you so much to everyone who brought in toonies for Terry. We as a class raised $42 for cancer research
Please update and return your comfort kit. Deadline is Oct. 2nd – that is on MONDAY!
Spell to Write and Read Seminar for Parents – we will be hosting a seminar for you to come and learn about our Spelling and Phonograms program. It will be on October 3rd from 3:15-4:15. Childcare will be provided, but in order for us to have enough staff to provide childcare I need you to let me know how many children you will have with you in need to childcare. Send me an email, or put a note in your child's planner. Thanks so much!
Pictures from Our Week:
Examining a Wasp Hive
Science Experiments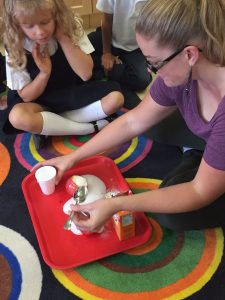 Terry Fox Run